CMM Software Upgrades
We are proud to be a top distributor and certified installer of all CMM-Manager Software Products.


CMM Manager

CMM-Manager for Windows is by far the most value-for-the-money tactile inspection software that runs on nearly all CNC and manual CMMs. The modern and intuitive Windows graphical interface makes the software even more informative and interactive. Get more things done with CMM-Manager by automating serial inspection or by easily taking a few points on the spot. When combined with the new Renishaw 5-axis PH20 probe head, CMM-Manager can turn around your inspection work up to 3 times faster.
CMM-Manager... The power of CAD
Software is perhaps the biggest single reason why many CMM users choose to upgrade because its the main aspect of the CMM that they interact with most often. Slow programming, clunky program execution, unfriendly reporting and outdated operating systems can all lead to frustration and harm productivity.
CMM-Manager software is designed to make full use of the power of CAD, enabling rapid off-line programming with nominal data coming straight from the CAD model. Reporting is now graphical rather than just tabular, making it easier to interpret measurement data and more importantly, take appropriate actions as a result.


CMM-Manager is a task-oriented, highly intuitive CMM software package for both manual and CNC CMM's. It is a fully integrated environment featuring walk-in quick-measure, one-click CAD-measure, collision-free CAD-teach, virtual simulation, real-time verification, advanced path planning, CAD alignment, datum alignment and many more smart functions.

CMM-Manager also offers flexible yet easy-to-use functionalities, including graphical probe configuration management, automatic tip calibration, cross section scanning and group feature measurement.

CMM-Manager software can be retrofitted any manual CMM and completely plug-n-play on most DCC CMM's on the market.
CMM-Manager Features & Benefits

CAD Import with CAD to Part Comparison
Import any CAD Model (IGES, Pro-E, SolidWorks, Unigraphics, Parasolid, STEP or CATIA).
Actual measured data is compared direct to the CAD Model and reported graphically.
Fully Integrated Measurement System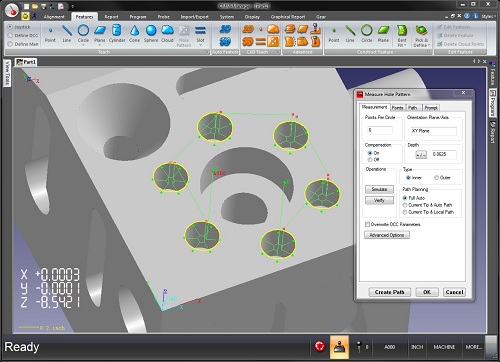 Task oriented working environment with intuitive interface design, easy to learn and easy to use.
Walk-in measurement for quick dimension check.
One-click automatic CAD-measure.
Collision-free CAD-teach.
Virtual simulation and real-time verification.
Advanced Path Planning
Automatic probing angle selection.
Collision detection and collision avoidance.
Inspection path optimization.
Powerful Alignment Tools
Iterative datum alignment to improve the accuracy and repeatability of the alignment results for datum points distributed on prismatic surfaces as well as free-form sculptured surfaces.
CAD alignment for free-form surfaces.
3-2-1 alignment for prismatic datum features.
Reporting
State-of-the-art reporting capabilities for visualizing and documenting your inspection results.
Various customizable reporting formats including graphical report, text report, or mixed text and graphical report.
Intuitive user interface for report creation including graphics assisted tools for tolerance reporting, and drag and drop interface for report template creation;
Web-ready HTML report output for information exchange and sharing between departments

Reverse Engineering Support
Actual measured data exported to CAD can be used to take your reverse engineering application to new heights of efficiency and accuracy.
Actual measured data is exported to an IGES or a DXF file format.

Click on the tabs to view different screen shots.
Click on the screen shot to view a larger image.